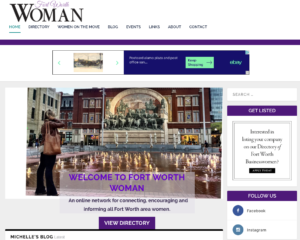 FORT WORTH WOMAN launched in 2015, with an Instagram and Facebook page. Since then, FORT WORTH WOMAN become the go to resource for Fort Worth area women, particularly Fort Worth moms.
FORT WORTH WOMAN is a Women in Business Directory, providing a listing of women in business, news and networking resources for women in the Fort Worth, Texas and surrounding North Texas metropolitan area.
Build your client base and reach out to educated, active, decision-making women and female business owners in the Fort Worth Area at FortWorthWoman.com.
Fort Worth Woman
Michelle Miles, Editor
(210) 410-0016
www.fortworthwoman.com